Een natuurlijke uitstraling met een keramische houtlook buitentegel 
Op zoek naar een keramische buitentegel houtlook? Bij Step Stones hebben we de grootste collectie keramische buitentegels in de regio voor u klaar staan. Buitentegels met perfecte eigenschappen voor onze weersomstandigheden. Met keramische buitentegels maakt u een prachtige buitenvloer voor de tuin en terras, maar ook voor de overkapping of patio. De oersterke tegels vormen de perfecte basis voor iedere buitentoepassing. Vocht en vuil krijgen geen kans en de tegels blijven kleurvast. De volkeramische tegels zijn door-en-door gebakken en 3 centimeter dik. De toplaag van een keramische tegel is ondoordringbaar en de tegels zijn oersterk. Nooit meer last van groenaanslag, een perfect loopcomfort en een prachtige uitstraling. De perfecte basis dus! 
Een buitenvloer met een keramische buitentegel is genieten zonder zorgen
Met een keramische buitentegel creëert u een prachtige look in de tuin en rondom uw woning. De tegels zijn onverwoestbaar en kunnen tegen een stootje. Geen krassen meer en groenaanslag is eenvoudig te reinigen. En na de bbq of een tuinfeest nooit meer blijvende vlekken op het terras. De tegels zijn ook bestendig tegen zure vloeistoffen en olie. Geen gedoe meer met de hogedrukspuit of ieder jaar weer onkruid verwijderen tussen de voegen. Een keramische buitentegel houtlook brengt sfeer en iedere tegel heeft een uniek eigen patroon met genuanceerde kleurschakeringen. Genieten zonder zorgen!
Prachtige houtlooks voor een natuurlijke buitenvloer
Houtlook tegels geven uw terras een warme en levendige uitstraling. De subtiele kleurnuances en de verschillende patronen zorgen voor een vloer die niet van echt hout te onderscheiden is. De tegels zijn in diverse houtsoorten verkrijgbaar, van licht tot donker hout. Met een knipoog naar het oorspronkelijke materiaal welke perfect is nagebootst. De charme van hout samen met de voordelen van keramiek.
Echte houtpatronen en subtiele dessins
Iedere houtlook tegel heeft zijn eigen unieke dessin. Geen tegel is hetzelfde en dat geeft de de buitenvloer een gevarieerde look. De genuanceerde kleurverschillen van de tegels maken het helemaal af! Kiezen voor een keramische buitentegel houtlook is kiezen voor een moderne en tijdloze uitstraling. De tuin krijgt direct een frisse look met houtlook. De tegels zijn ook prima om te gebruiken rondom de woning, als looppad of voor de oprit.
Bij Step Stones krijgt u altijd een scherpe prijs en de beste service
Step Stones is al vele jaren gespecialiseerd in de verkoop en verwerking van keramische buitentegels. We leveren tegels uit voorraad en adviseren u graag rondom alle mogelijkheden voor de aanleg van een prachtige buitenvloer in uw tuin. We maken vooraf een 3d tekening zodat u een goede indruk krijgt van het eindresultaat. De aanleg van uw keramische tuin -of terrasvloer wordt verzorgd door een team met ervaren vakspecialisten. En als u wilt kunt u zelf een handje met ons meehelpen en zo een mooi bedrag besparen. De beste kwaliteit voor een scherpe prijs, u slaagt altijd bij Step Stones!
Keramische buitentegels in verschillende houtkleuren
40×120 en 45×90 cm
Keramische houtlook buitentegels zijn verkrijgbaar in rustieke kleuren die altijd passen met uw woning. De tegels hebben elk een eigen unieke tekening voor een natuurlijke en gevarieerde buitenvloer. Door het grote formaat van de tegels zijn er minder voegen zichtbaar en oogt uw buitenvloer heel rustig. De moderne tegels kunnen prima gecombineerd worden met uw binnenvoer. Van binnen naar buiten dus..
keramische buitentegels Timber Oak houtlook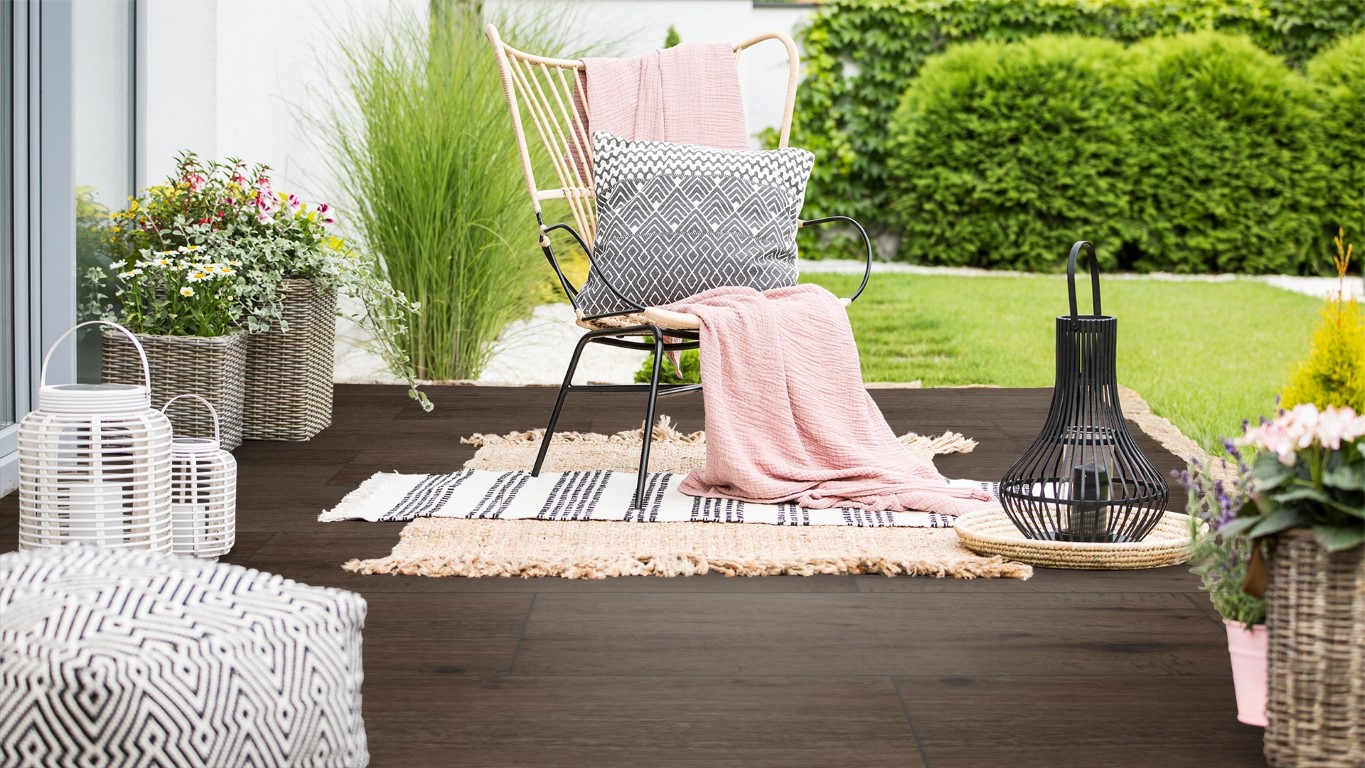 Bekijk onze collectie beige buitentegels >
keramische buitentegels Timber Tabak houtlook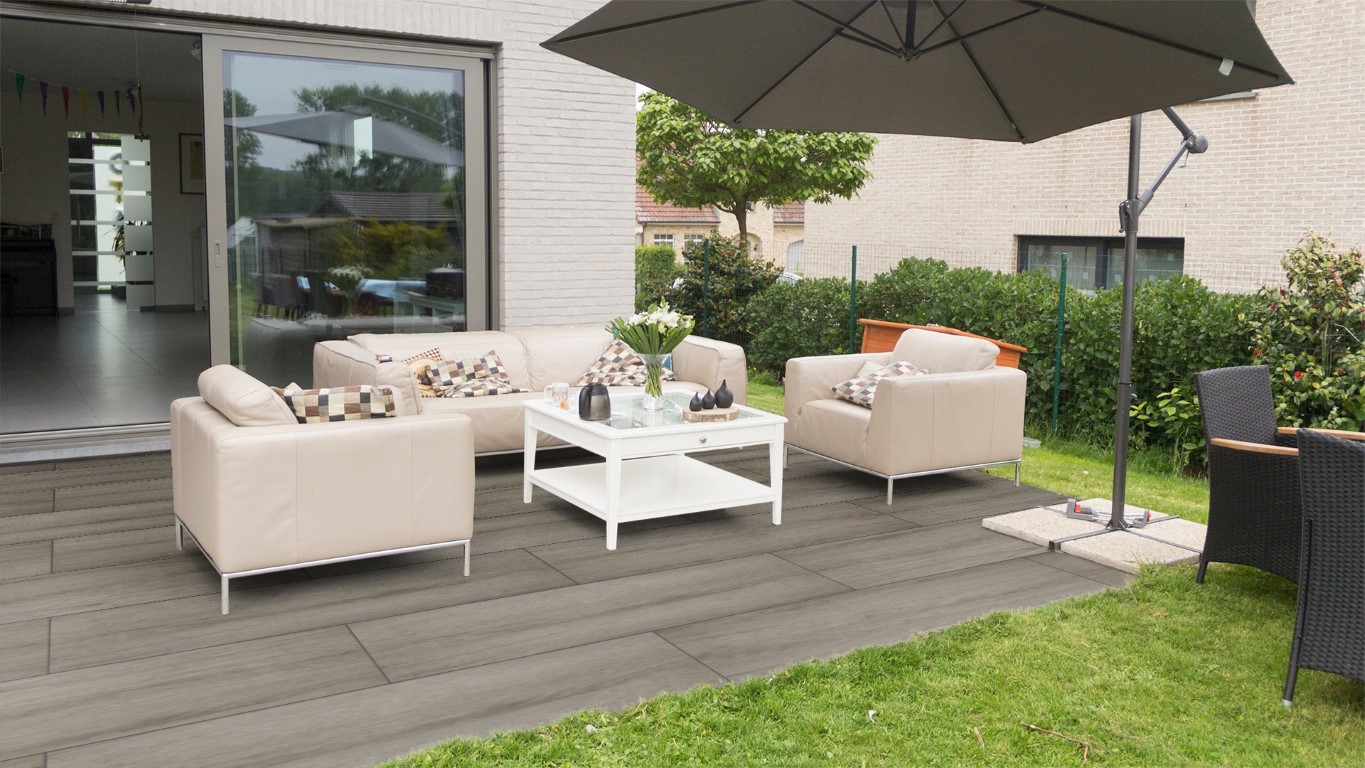 Bekijk onze collectie licht grijze buitentegels >
keramische buitentegels Timber Mokka houtlook
Bekijk onze collectie grijze buitentegels >
keramische buitentegels Ultra Ikon houtlook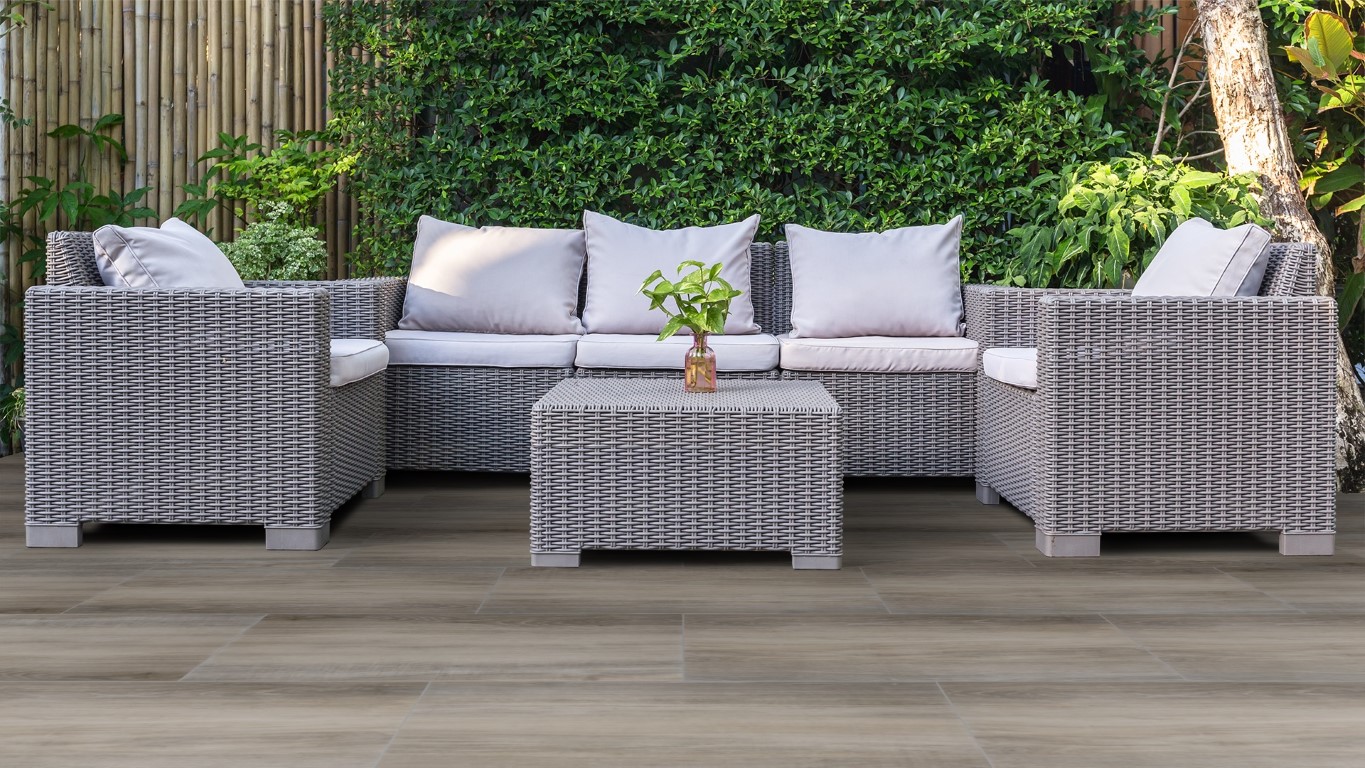 Bekijk onze collectie bruine buitentegels >
keramische buitentegels Wood White houtlook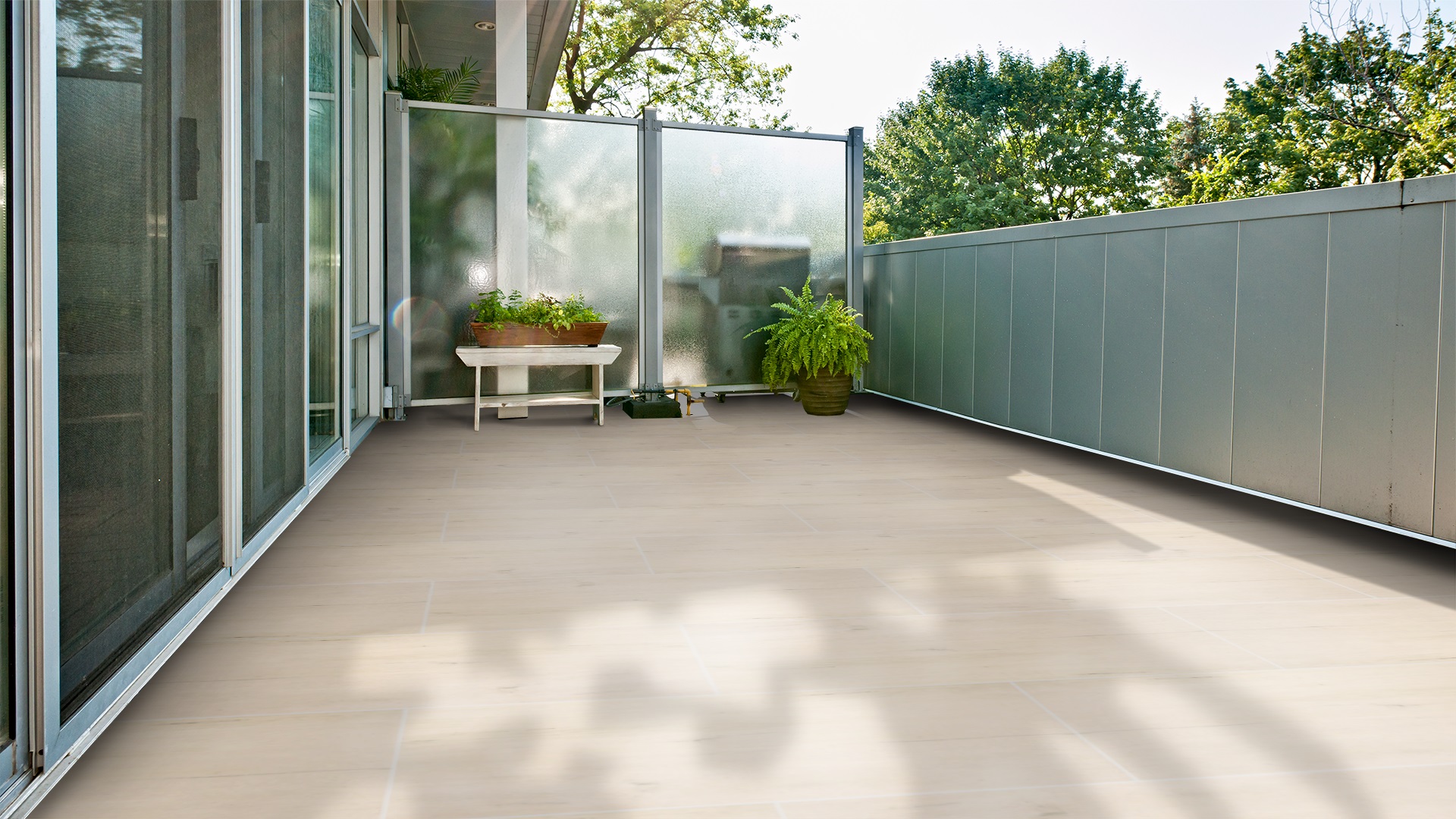 Bekijk onze collectie antraciet buitentegels >
keramische buitentegels Wood Cream houtlook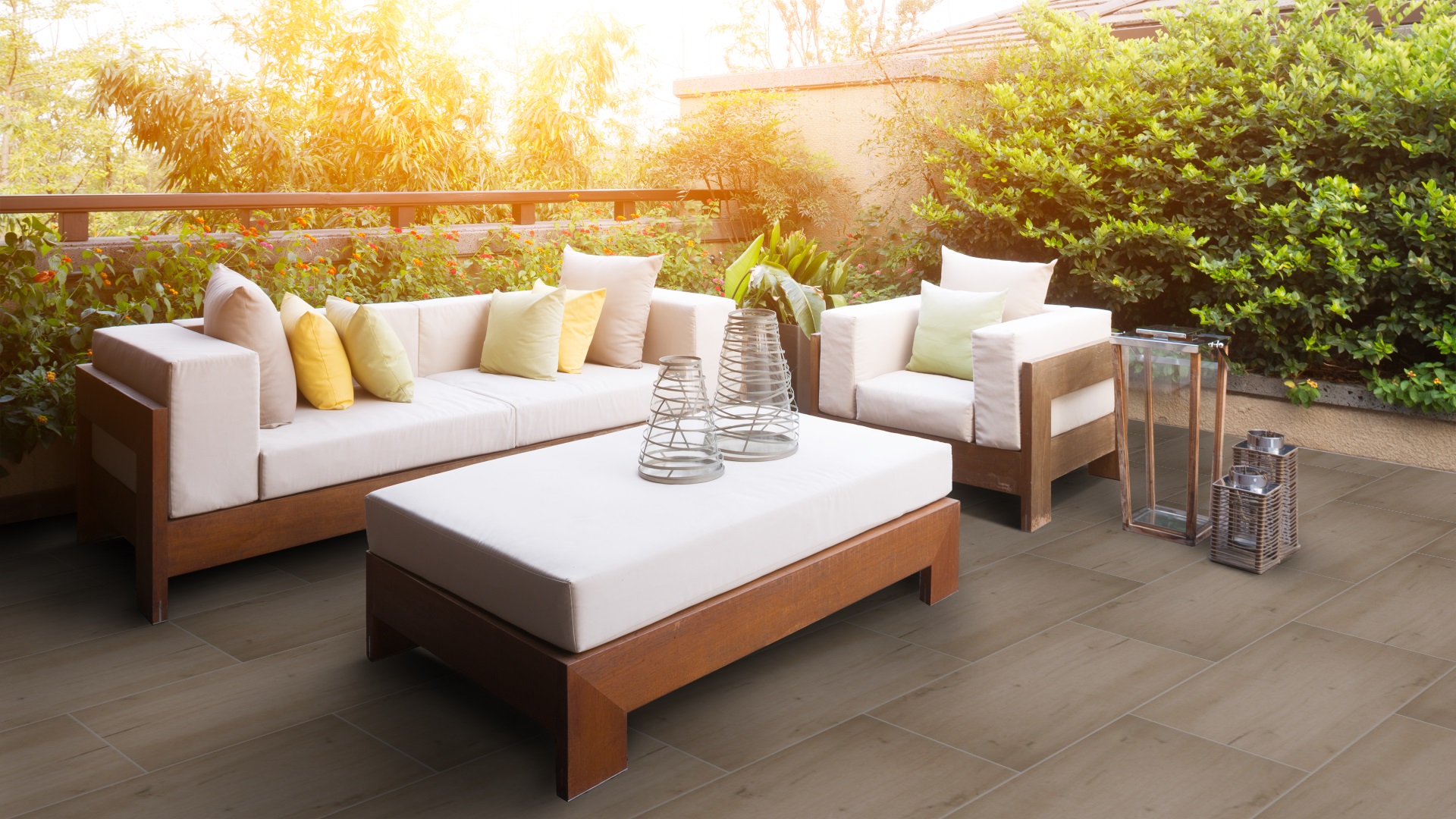 Bekijk onze collectie zwarte buitentegels >
keramische buitentegels Wood Dark Brown houtlook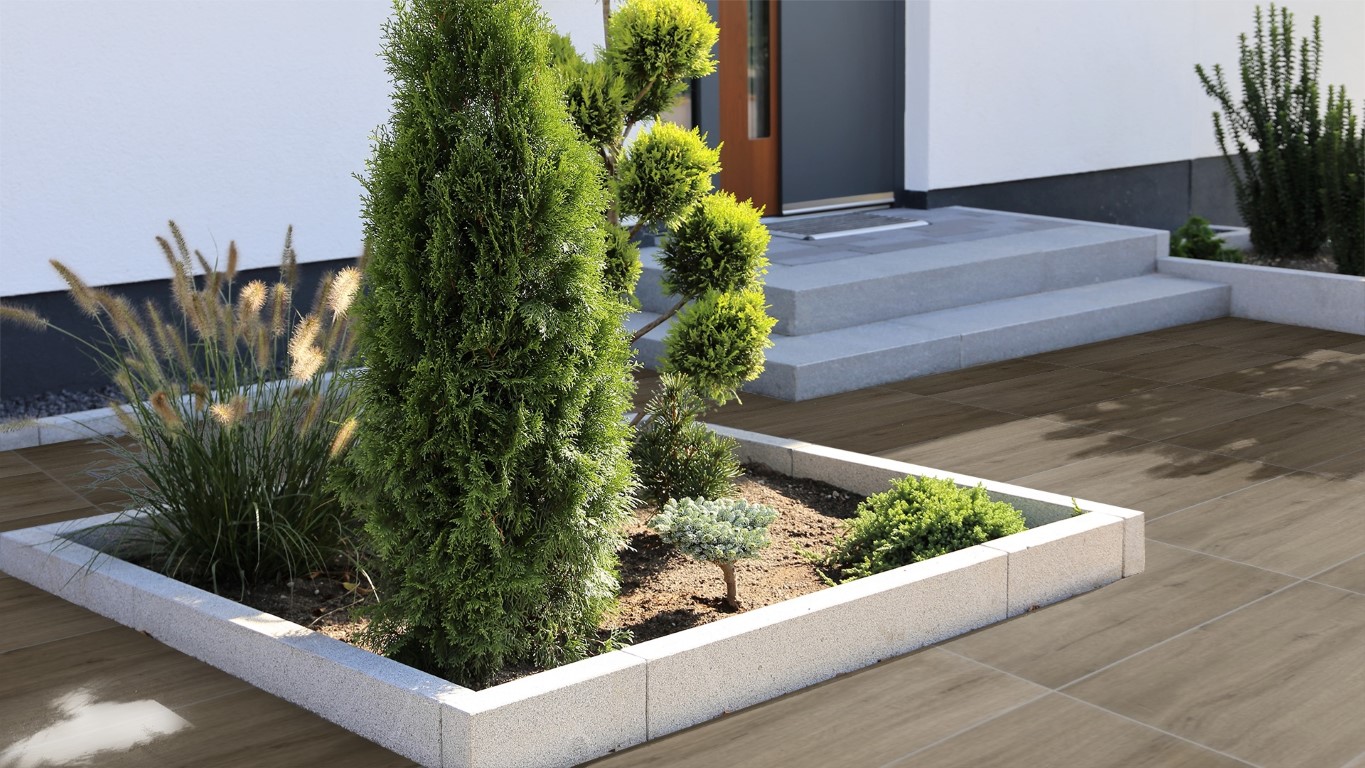 Bekijk onze collectie zwarte buitentegels >
We maken iedere buitenvloer op maat voor tuin en terras
Step Stones heeft een eigen ervaren team die snel en vakkundig een strakke keramische buitenterras maakt in de tuin of rondom de woning. We verzorgen de complete aanleg van uw vloer en zorgen voor een stabiele ondergrond met een solide afwatering. We werken met hoogwaardig voegmateriaal en waardoor onkruid en insecten geen kans krijgen. Door dit voegmateriaal hechten de buitentegels aan elkaar. Zo ontstaat er een sterke en massieve buitenvloer met een optimaal loop comfort.
Kom langs voor een keramische houtlook buitentegel of stuur ons een mail. Altijd een scherpe prijs
In onze showtuin in Hengelo kunt u vele soorten en uitvoeringen van keramische buitentegels bekijken op grote vloervlakken in alle beschikbare formaten. U krijgt altijd de scherpste aanbieding van ons, zowel voor de tegels als voor het maken van uw buitenvloer. Onze vakspecialisten maken een perfecte buitenvloer op maat. Ambacht en jarenlange ervaring maken het verschil. U kunt ook zelf meehelpen om te besparen op de legkosten. Bekijk hier alle mogelijkheden van onze vloerenservice. We leveren en maken keramische buitenvloeren op maat door geheel Nederland.
Heeft u vragen over keramische buitentegels? Neem telefonisch contact op en we beantwoorden direct al uw vragen. 
Woont u binnen een straal van 50 km van Hengelo? We komen langs voor advies en nemen tegelmonsters mee.
Wilt u een scherpe offerte ontvangen? Vul het contactformulier in en geef het aantal benodigde vierkante meters op.